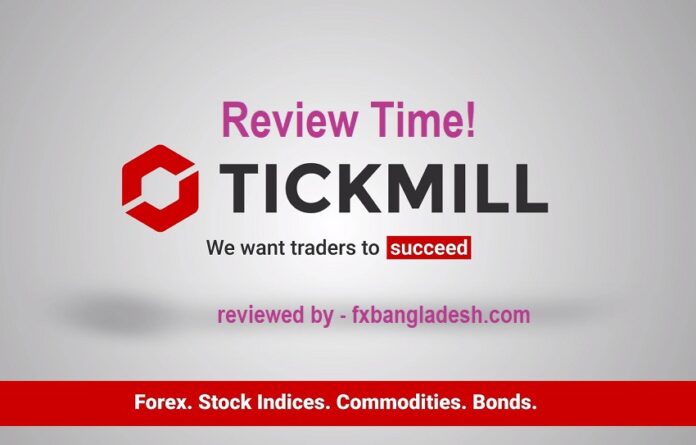 The success of trading depends on a good broker. You will understand this only when you have more experience in trading. Many people are looking for some good brokers. From our experience, all are good but the difference is in the trading advantages and disadvantages. We have discussed several popular brokers before. Please see our broker reviews section to learn about different broker reviews.
In today's review section, we will discuss with you the advantages and disadvantages of the internationally recognized broker Tickmill and try to get a detailed idea about Tickmill Review. So let's get started.
Before Tickmill Review –
The easiest way to find out if any broker is good or bad is to know about the broker's regulation and support system. There are many brokers who are popular but the support system and regulation are not good. We do not recommend trading on such brokers. In order to provide reviews about the broker, we have checked and selected some of the issues, and based on that we have provided reviews. In order to provide Tickmill Review, we will focus on the following 6 topics.
Execution time
Fund processing time
Fund security
Broker support system
Various bonuses and promotions
Spread
Tickmill Regulation
As everyone who is trading forex knows, regulation is very important when choosing a broker. Basically a broker is governed by its regulation. The strongest regulation among forex brokers is the FCA, also known as the UK-based Financial Conduct Authority. There are very few forex brokers who have this FCA Regulation.
Tickmill broker is regulated by FCA regulations. Also, this broker is regulated by CySEC and FSA. For your convenience, We are presenting below the information of this broker's regulation.
Financial Conduct Authority (FCA): Register Number: 717270 (Reference)
Seychelles Financial Services Authority (FSA): Licence number: SD008 (Reference)
Cyprus Securities and Exchange Commission (CySEC): Licence number: 278/15 (Reference)
Also, this broker is regulated by BaFIN (Germany); CONSOB (Italy); ACPR (France); Registered and managed by the Regulatory Committee of CNMV (Spain). For more details on this please visit the official website of the broker – www.tickmill.com.
So, through regulation, you can assume the reliability of this broker. Due to which this broker is much more popular and much more reliable internationally.
Tickmill Headquarter
Tickmill is a trading name of Tickmill Ltd Seychelles. Registered and Head Office: 3, F28-F29 Eden Plaza, Eden Island, Mahe, Republic of Seychelles. Tickmill Ltd is a company registered in the Republic of Seychelles, number: 8414279-1. Authorized and Regulated by the Seychelles Financial Services Authority.
UK Office: Fore Street, EC2Y 9DT, London, United Kingdom
Cyprus Office: Kedron 9, Mesa Geitonia 4004, Cyprus
Seychelles Office: 3, F28-F29 Eden Plaza, Eden Island, Mahe
Note: The above information is presented as the address of the broker's office. You can also get detailed information from the broker's website.
Tickmill Review: Execution
Here is the execution time, exactly how much time you have when you trade real. To put it simply, I mean the amount of time it takes to get an entry. This is important because if it takes too long to accept an entry, your target pips may be lost. The execution time of this broker is "Super Fast" in one word. No extra time will be required when accepting or closing any entry. In other words, it can accept any entry, even if the movement of the market is so much volatile.
In our experience, it did not take much time to make an entry during news trading or other price movements. That is, there will be no problem with "Re-Quote" when accepting an entry due to extra volatility.
Tickmill Review: Fund Processing
Another major reason for the popularity of tickmill broker is their fund processing system. For the convenience of the trader, this broker offers the facility of depositing and withdrawing funds in various ways and it largely depends on your country. For example, credit card, bank transfer, Neteller, Skrill, Webmoney, etc. However, Neteller and Skrill are good ways to transfer funds from Bangladesh. Using any of these two gateways, you can easily deposit funds in the broker.
In our experience, the process of fund deposit or withdrawal is instantaneous. That is, it did not take long. Tickmill broker does not take extra time to transact funds.
Tickmill Review: Fund Security
All traders, by depositing funds in the broker, are a little worried. Because this money will not be lost or the broker will not kill the money? We know this is normal. Because, brother, these are our hard-earned money. If we lose money by trading, it will not be as difficult as if the broker does not allow us to withdraw funds or does not provide protection to the money we have invested.
There are many of you who have heard the name of the surrogate account. Now the question is, what has this got to do with fund security? For your convenience, the broker itself is not a bank but your invested funds are deposited in the broker's bank account. Brokers who offer Surrogate Accounts, deposit their client's funds directly in a client's name with a listed and trusted bank as opposed to depositing them in their own account. Now the question is, what are the benefits? Let us explain with a simple example –
Suppose you deposit funds in a broker called "A" which does not have the facility of a Surrogate Account. If at any time, your broker goes bankrupt, all the funds you have invested will be lost. As a result, you will never get your money back.
On the other hand, you have deposited funds in a broker named "B" who has the benefit of a Surrogate Account. If at any time your broker goes bankrupt, the bank will be obliged to return all the funds you have invested. Hope you understand. This broker provides the facility of this surrogate account to provide the security of the client's fund. So, for real trading, you can deposit this broker fund without any fear.
Tickmill Review: Broker Support
The most important thing when choosing a broker is to know the details of the support system of the broker you will trade with. Tickmill Broker's support system is much better than other brokers. You can receive support from this broker 24 hours a day, 5 days a week. In addition, this broker provides real-time support in 14 different languages.
You can also receive services directly by phone, live chat with this broker's support team if you wish. However, Tickmill Broker does not provide any support in Bengali. However, the broker's support team is very helpful, you will get their services in case of any problem.
Tickmill Review: Bonus
For those who are interested in trading through the use of bonuses, this broker offers a variety of bonus offers. If you want, you can get the benefit of real trading by using this bonus offer. However, the terms and conditions of this bonus vary. So be sure to read those policies carefully when accepting bonuses.
The most popular of the broker's various promotional offers are Welcome Bonus, Lot back Offer, and their Trading Contest. Please click on the link to see the details of various bonus-related information.
Tickmill Review: Leverage
In a word, this broker is ideal for traders who like to trade through leverage. Without any restrictions, the broker offers you leverage of up to 1: 500 and you do not have to deposit a certain amount. This leverage will help you to trade large amounts with low balance. So, you can take advantage of its leverage.
Note: Leverage and marginal trading are not for everyone, especially newcomers. Excess leverage can lead to a loss of your investment. So, please read our Leverage and Margin article seriously before trading with Excess Leverage.
Tickmill Review: Spread
In simple words, the spread is the gap between the given buy price and the selling price of the entry you take. This gap is called the spread which is considered as the profit of the broker. Spread is a loss for traders because if you enter a currency pair where the amount of spread is higher, it will open with more loss.
The spread of this broker is much less than that of many other reputed brokers. One thing to keep in mind is that the broker with the lowest spread is the one who has the most advantage to trade. For more detailed information on spreads, please visit the broker's website at www.tickmill.com
Notice
As a trader, you can start trading at any broker of your choice. However, since you are starting to trade as a newbie or want to change your broker, we have only tried to help by providing this review. The information we have presented in this Tickmill Review article is based entirely on our own trading experience. All of the information presented above is 100% accurate and was not published for any advertising or promotion purposes. If you have any comments, questions, or experiences about this review, please feel free to email us or write in the comments section below.
---
If you liked this article, then please subscribe to our
Newsletter
Services for Forex Related updates. You can also find us on
Facebook
 and can subscribe to our
YouTube channel
. You can also join our
Telegram Channel
for real-time trading analysis and discussion. Here is our
service sitemap
. If you have any confusion please leave your comments below.