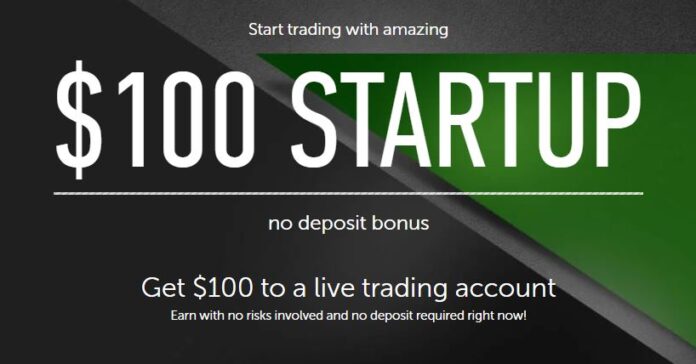 Instaforex No Deposit Bonus offer is offered to newbies who are interested to start real trading without investing any funds. By using this bonus you will get the opportunity to use broker funds to start your trading carrier. Every new trader can avail of this offer, on the other hand, if you are already trading with this broker you will not be able to receive such bonuses.
How to Apply for Bonus?
The process is really easy and simple. Click the Registration button below to open the account. After clicking, you will be redirected to the broker website. Just follow the onscreen instructions and submit your email id. A bonus account will be created and you will get a confirmation email.
InstaForex No Deposit Bonus details

Types of bonuses
No deposit bonus
Bonus user
For new traders.
Maximum bonus amount
$100
Bonus registration link
Bonus Registration link
Bonus Offer Term
Up to 30 days of receiving bonus
Applicable to new customers
Applicable
Applicable to more account holders
Not Applicable
Bonus Withdrawal
profit is withdrawable
How to take a bonus?
First, click this link and follow the onscreen instructions;
Place your email ID and submit your account details.
No need for account verification.
Bonuses will automatically be added to your trading account.
Bonus Withdrawal Process –
The Bonus Amount cannot be withdrawable;
Profit by using the bonus amount can be withdrawn.
Trade Need to trade 3 Lots for every $1 bonus amount.
Bonus Terms –
Please make sure, you need to meet the below conditions first to make any withdrawal request.
When opening a new account, the client will be obliged to provide them with the correct information on the form. The client will not be able to change their name after receiving the bonus amount.
This bonus does not apply to cent accounts.
Bonus funds can never be withdrawn, but the profit from the bonus fund can be withdrawn if all the conditions are met.
After having a 10% profit from this bonus, the broker will be able to temporarily close the trading account. The client will then be required to deposit 10% of the bonus money into that account. After 10% of the deposit has been made, the trading account will be reactivated again. For Example, if you start trading with $100, your account will temporarily close after you

make a profit of $10

. Then you have to deposit $10 by yourself.

Your previously paid $100 bonus amount will be deducted right after, you deposit $10

. Your new balance will be $23. With this new balance, you will start trading. Here's $25 = 10% Profit (from $100) + New Deposit $10 + $3 (30% deposit bonus of $10).
After the client refreshes the account, he/she can receive an additional 30% or 50% deposit bonus if desired.
The 30% or 50% bonus per deposit will be subject to the regular bonus agreement, known as Welcome Bonus. If you withdraw any money from the bonus account, the bonus amount will be deducted.
100 No Deposit Bonus Amount cannot be invested in PAMM accounts in any way, but this money will apply to the ForexCopy system.
This bonus amount can be withdrawn after completing the BUY or SELL trade of a particular Amount. If you can trade a total of 3 lots, you will be able to withdraw the full amount of this bonus. The amount of this bonus cannot be withdrawn partially. To withdraw the bonus proceeds, the trader will send a letter from his client cabinet or email to

[email protected]

. Then a manager will work for the trader to approve this request.
The Company can change this bonus agreement at any time.
---
If you liked this article, then please subscribe to our
Newsletter
Services for
Forex
Related updates. You can also find us on
Facebook
 and can subscribe to our
YouTube channel
. You can also join our
Telegram Channel
for real-time trading analysis and discussion. Here is our
service sitemap
. If you have any confusion please leave your comments below.