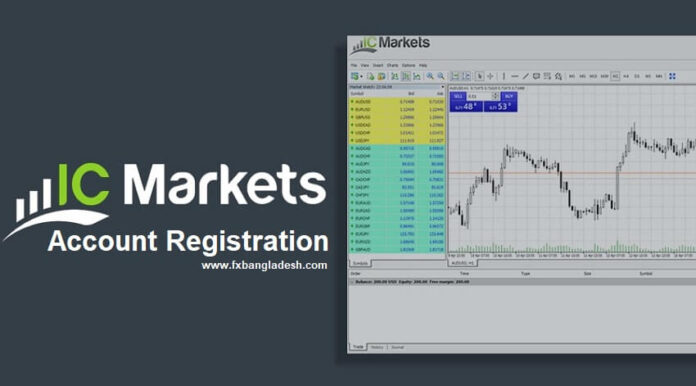 Estimated reading time:
3 min
ICMarkets Registration – This name is known to all those who are trading or want to trade in Forex. Basically, the popularity of this broker is due to the fact that it offers low spread trading facilities. In today's article, we will try to know and find out the details on how to register a new trading account at IC Markets broker. So let's get started.
About Broker
IC Markets, an Australian regulated broker that has been conducting business internationally since 2006. The main reason for the popularity of this broker is the low spread and its regulation. Generally, very few brokers are regulated by ASIC because it is somewhat complicated to get Australian regulation and it is almost impossible to get this regulation without providing good quality financial services.
Although this broker is globally recognized and has a reputation, it is not very popular in our country. The main reason for this is the minimum $200 deposit policy. Because, in a country like ours, it is not possible to deposit this amount of funds at the beginning.
But now, the popularity of this broker is increasing day by day in our country. The main reason behind this is the
advantage of minimum spread
. Because most of the time major currency pairs do not have spreads or as low as 1/2
pips
.
You will get the benefit of trading through this broker of Standard Lot with a maximum leverage of 1:500. For more detailed information about the broker, please see the ICMarkets Review article.
Registration Process
Although the ICMarkets Registration process is simple, it may seem a bit complicated to many at first. However, there is nothing to worry about, you can easily register a trading account. So let's get started.
To register an account, first, click on the broker's official website www.icmarkets.com. After clicking, the official website of the broker will open in front of you. Click on the "Start Trading" button.

After clicking, you will come across a few steps to register an account in which you have to provide some information. Be sure to provide the correct information. Otherwise, there may be problems during the next account verification process.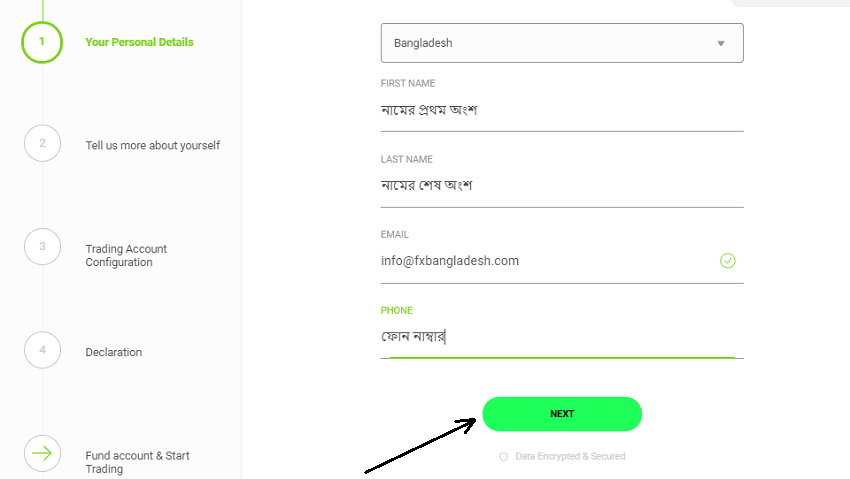 In the first step, enter your full name, email ID, and phone number and click on the "Next" button below. When giving the name, write the first part of your name in the first box and rest in the second box. For example, if your name is "Golam Mustafa" then write Golam in the 1st section of the form and "Mustafa" in the 2nd box. Hope you understand. Now click on the "Next" button and move on to the next step.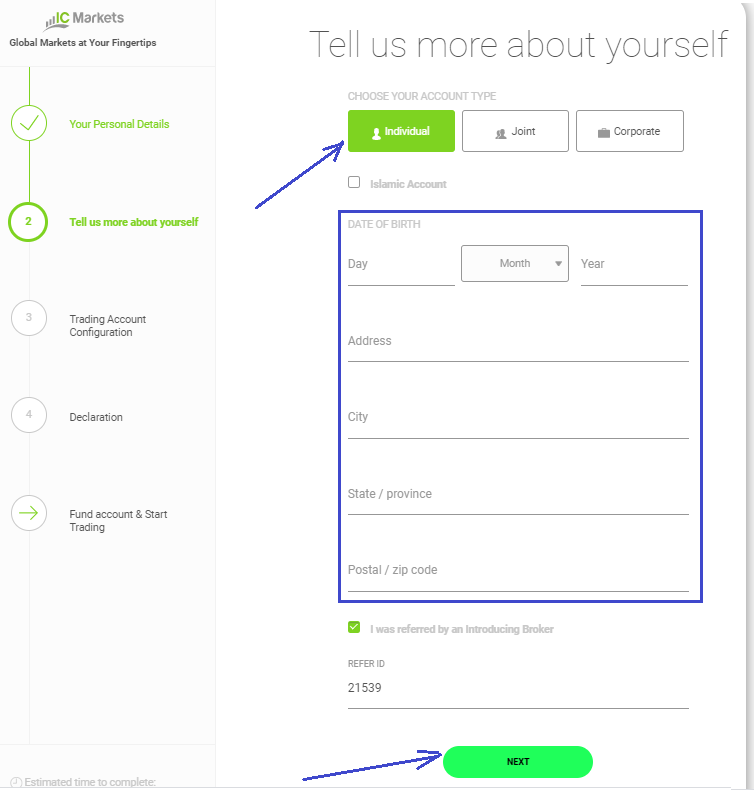 Now, in front of you will be a form like a picture above where you will enter your date of birth, full address, and postal code and click the "Next" button below The date of birth must be the same as your passport or national ID card and the address must be in accordance with the bank statement in your name. After typing, click on the "Next" button again.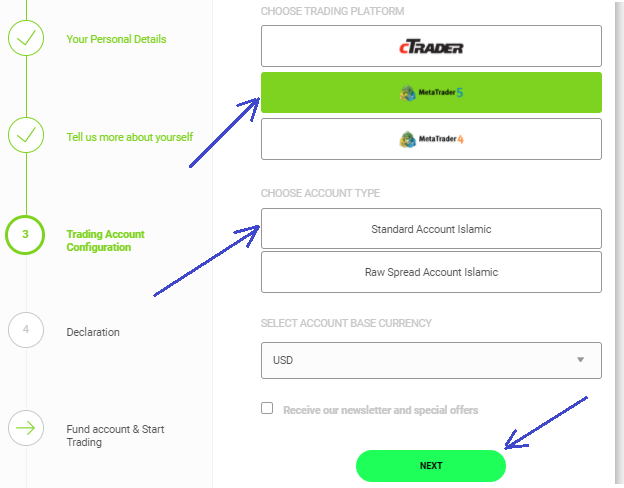 Come to this page and choose any one of the trading terminals of your choice such as MT4, MT5, or cTrader and then select one of the two types of trading accounts of the broker from the bottom.
If you are starting forex trading as a newbie, we recommend setting up a "Standard Account Islamic" account and clicking the "Next" button below. The advantage of this account is that the amount of spread is lower than other brokers and no commission will be charged. Click on the button below and go to the 4th step.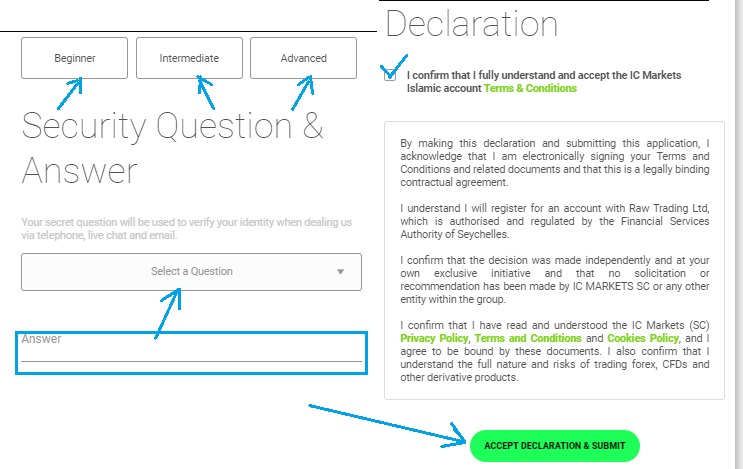 In this step, you need to choose what kind of trader you are. Choose any of the above three options like "Beginner, Intermediate and Advance" level. You can choose any according to your trading experience.
Then click on the "Select a Question" option below and there will be several preloaded questions, select any one of them and enter the answer to the question in the "Answer" box below. This is important because this security question will be needed to solve any problem in the future. Then, tick the checkbox below and finally click on the "Accept Declaration & Submit" button.
Fully ready to use your trading account. Trading account details will be notified to you via email. Please check the email. Now you have to verify your trading account. Please read the ICMarkets Verification article for details on how to verify your account. Here you will find the details of the verification procedure.
If you have any comments or questions regarding ICMarkets Registration, you can let us know in the comment box below. We will try our best to help you.
---
If you liked this article, then please subscribe to our
Newsletter
Services for
Forex
Related updates. You can also find us on
Facebook
 and can subscribe to our
YouTube channel
. You can also join our
Telegram Channel
for real-time trading analysis and discussion. Here is our
service sitemap
. If you have any confusion please leave your comments below.