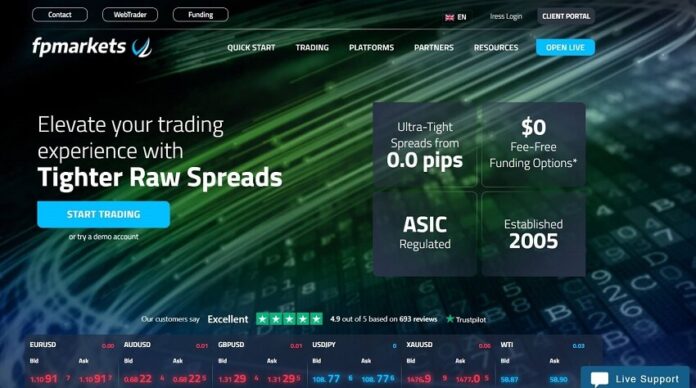 FPMarkets Standard Account – For those who are interested in real trading with low spread, our advice is FPMarkets Broker. This is because the broker is Australian regulated and has an international reputation. In the meantime, We have presented to you the review of this broker, but if you want, you can get detailed information from this FPMarkets Review article. Or you can find out more about this broker from the FPMarkets Broker section.
In today's article, we will discuss with you a popular trading account that is offered by this broker. Depending on the facility, this broker offers the benefit of using different types of trading accounts. One of which is FPMarkets Standard Account. We will discuss some information about this account with you today. So let's get started.
As we said to you at the beginning of the article, our advice is for those who are interested in trading at low spreads. Then first you need to know "What is spread?"
What is the spread?
You all know more or less about spreads. This is basically when you take an entry, the entry is open with some early loss. Hope you know it. The spread is the amount of loss that opens when any position is taken. Brokers basically earn money through this spread. In simple words, the broker manages all its expenses through the spread received from your trade. In a word, this spread is the source of income of the broker.
Now the amount of spread in Brokerage is one of a kind. It has no definite boundaries. For example, if you trade on an OCTAFX broker, they have a spread of up to 12-18 pips, which means that if you take 1 standard lot entry, your trade will start at a loss of about 12-18 pips.
So, we can say that spread is a loss for traders. The higher the amount of spread in the broker, the higher the amount of loss in your trade. Since the position of the trade will start with more losses, it relates to your overall trading loss.
Advantages of FPMarkets Standard Account
Now suppose you start trading in a broker in which your spread for the entry of 1 standard lot is 12 pips and after taking the entry, your entry will start at a loss of about $12. Now suppose you go to FPMarkets broker to take an entry and you see that the spread for 1 standard lot is 2 pips then your loss for entry will be like 2 dollars. Now think about yourself, which is convenient for you?
Of course, the lower the spread!
We hope you understand the idea of ​​spreads and you have decided which one is best for you. The biggest reason for the popularity of this broker is its "low spread facilities".
Compared to other brokers, the spread in this trading account starts from "1 pip" but it will continue to change over the price movement in the market. However, according to our trading experience, most of the time this spread will be around 1-8 pips. Since the spread is low, it will not take long for your trade to turn a profit. We hope you understand how low spread can be more profitable for real trading.
FPMarkets Standard Account Summary



Account Types

Standard Account
Lowest Deposit

$100
Maximum Leverage
1:500
Account Registration

www.fpmarkets.com
Commission
N/A
Spread Starts from
1 pip
Hedge & SWAP Free
Applicable
Order Execution
ECN Execution
FPMarkets Standard Account-Related FAQ
Q:

I have already registered with this broker. Can I open this spread account now?


A:

Of course you can. Please login to your client cabinet and from there go to the account section. Then you will get the benefit of registering this account. You do not have to re-register for this. Learn more on the broker's website – www.fpmarkets.com

Q:

What kind of commission will charge?


A:

There are

no commissions on this account

. That means you don't have to pay any commission except spread.

Q:

What are the restrictions of any position?


A:

No. You can trade any

amount of lot

you want.

Q:

Is scalping allowed?


A:

Of course you can. The FPMarkets Standard Account is primarily for those who like to trade scalping. Since the amount of spread is low and less spread will always be beneficial for short term entries.

Q:

Are there any additional restrictions?


A:

No! You can trade like your existing trading account.
For your convenience, We are presenting a difference between this broker's accounts side by side
Standard Account Vs RAW Account
| Account Types | Standard | RAW |
| --- | --- | --- |
| Lowest Deposit | $100 | $100 |
| Maximum Leverage | 1:500 | 1:500 |
| Commission | N/A | $3/lot |
| Spread Starts From | 1 pip | 0 pip |
| SWAP Free facilities | Available | Available |
Summary: There are many people who are interested in taking a large number of entries, Just like scalping or day trading for those we suggest this type of trading account. All you have to do is deposit at least $100 as a condition and you are good to go. Please visit the broker's website for detailed information regarding this trading account. Link www.fpmarkets.com
---
If you liked this article, then please subscribe to our
Newsletter
Services for
Forex
Related updates. You can also find us on
Facebook
 and can subscribe to our
YouTube channel
. You can also join our
Telegram Channel
for real-time trading analysis and discussion. Here is our
service sitemap
. If you have any confusion please leave your comments below.