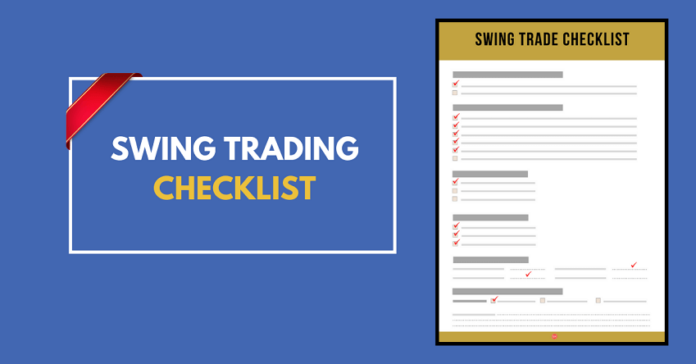 Estimated reading time:
3 min
Swing trading refers to the medium-term trading style that is used by forex traders who try to profit from price swings.
It is trading style requires patience to hold your trades for several days at a time. Swing trading stands between two other popular trading styles: day trading and position trading.
Swing traders identify a possible trend and then hold the trade(s) for a period of time, from a minimum of two days to several weeks.
It is ideal for those who can't monitor their charts throughout the day but can dedicate a couple of hours analyzing the market every night.

Swing trading is best suited for those who have full-time jobs or school but have enough free time to stay up-to-date with what is going on in the global economy.
Swing trading strategies employ fundamental or technical analysis in order to determine whether or not a particular currency pair might go up or down in price in the near future.
Swing trading attempts to identify "swings" within a medium-term trend and enter only when there seems to be a high probability of winning.
For example, in an uptrend, you aim to buy (go long) at "swing lows." And conversely, sell (go short) at "swing highs" to take advantage of temporary countertrends.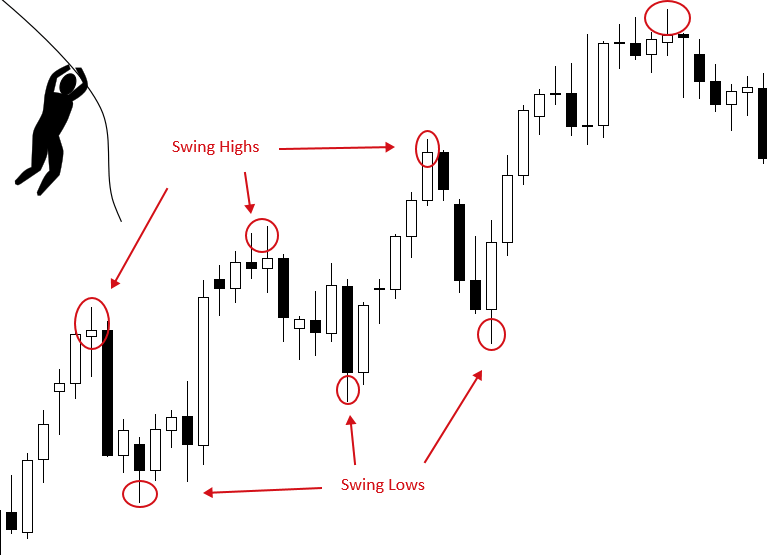 Because trades last much longer than one day, larger stop losses are required to weather volatility, and a forex trader must adapt that to their money management plan.
You will most likely see trades go against you during the holding time since there can be many fluctuations in the price during the shorter time frames.
It is important that you are able to remain calm during these times and trust in your analysis.
Since trades usually have larger targets, spreads won't have as much of an impact on your overall profits.
As a result, trading pairs with larger spreads and lower liquidity are acceptable.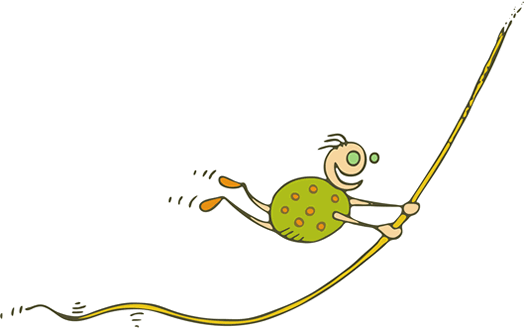 Types of Swing Trading
How do you swing trade?
There are several different trading strategies often used by swing traders.
Here are the four most popular: reversal, retracement (or pullback), breakouts, and breakdowns.
Reversal trading relies on a change in price momentum. A reversal is a change in the trend direction of an asset's price. For example, when an upward trend loses momentum and the price starts to move downwards. A reversal can be positive or negative (or bullish or bearish).
Retracement (or pullback) trading involves looking for a price to temporarily reverse within a larger trend. Price temporarily retraces to an earlier price point and then continues to move in the same direction later.
Reversals are sometimes hard to predict and to tell apart from short-term pullbacks. While a reversal denotes a change in trend, a pullback is a shorter-term "mini reversal" within an existing trend.
Think of a retracement (or pullback) as a "minor countertrend within the major trend".
If it's a retracement, price moving in against the primary trend should be temporary and relatively brief.
Reversals always start as potential pullbacks. The challenge is to know whether it is only a pullback or an actual trend reversal
Breakout trading is an approach where you take a position on the early side of an UPTREND, and looking for the price to"breakout". You enter into a position as soon as price breaks a key level of RESISTANCE.
A breakdown strategy is the opposite of a breakout strategy.  You take a position on the early side of a DOWNTREND and looking for price to "breakdown" (also known as a downside breakout). You enter into a position as soon as price breaks a key level of SUPPORT.
Characteristics
You might want to be a swing trader if:
You don't mind holding your trades for several days.
You are willing to take fewer trades but more careful to make sure your trades are very good setups.
You don't mind having large stop losses.
You are patient.
You are able to remain calm when trades move against you.
You might NOT want to be a swing trader if:
You like fast-paced, action-packed trading.
You are impatient and like to know whether you are right or wrong immediately.
You get sweaty and anxious when trades go against you.
You can't spend a couple of hours every day analyzing the markets.
You can't give up your World of Warcraft raiding sessions.
If you have a full-time job but enjoy trading on the side, then swing trading might be more your style!
It is important to remember that every trading style has its pros and cons, and it is up to you the trader,  which one you will choose.
---
If you liked this article, then please subscribe to our
Newsletter
Services for
Forex
Related updates. You can also find us on
Facebook
 and can subscribe to our
YouTube channel
. You can also join our
Telegram Channel
for real-time trading analysis and discussion. Here is our
service sitemap
. If you have any confusion please leave your comments below.