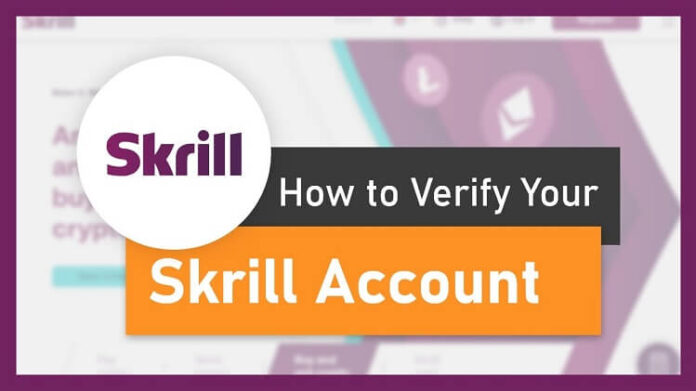 Estimated reading time:
2 min
Skrill Account Verification – Skrill account verification is a mandatory process and every user needs to submit their personal documents in order to use the skrill wallet. No matter where you live and how can use this wallet, you need to complete the verification first. In today's article, we will discuss some steps that help you to complete this verification process.
Account Verification Process
In order to verify your wallet account, first, you need to register a skrill wallet. If you do not have a wallet account then please visit the official website www.skrill.com for account registration. You can also check our Skrill Account Registration guidelines for the detailed registration process.
Please follow the below-mentioned steps in order to verify your wallet account. Please be noted these steps are the same no matter where you live and where your wallet account is located. You need to follow the exact same steps for the verification.
Download the Skrill Wallet App on your smartphone because this is the fastest and easiest way to submit your documents. Please click this link https://fxbd.co/skrillApp and you will be redirected to the AppStore or play store depending on your phone os.
Login to your Skrill wallet with your registered email and password.
You may see a notice in your wallet dashboard that you need to submit your documents to withdraw the limit restrictions. Please click that button and act accordingly.
Please make sure you have already verified your registered email address and phone number. If not! then please navigate to the profile section and you will see a Verify button in your just beside your email and phone number. Verify both of these first and then you can proceed to the next steps of your identity verification.
For identity verification, you need to submit any of the below-mentioned documents. GOVT. Approved ID/Passport/Driving License. If your document has an expiry date then make sure it is valid before submitting it.
Please check the skrill app you need to open your camera to scan your documents and it will automatically take a snap and submit it.
After uploading your identity document, now you need to submit any of the following documents to prove your residential address. You can use Bank Statements/TAX Certificates/Court Papers/Rental agreements and Utility bills. Choose your preferred document and upload it accordingly.
After uploading all the necessary documents, you need to wait the next 24-48 hours as skrill needs to cross-check it manually. You will be notified via email once your account is fully verified.
Documents Checklists
Please make sure to perform a quick check before uploading any of your documents carefully. Otherwise, your skrill will reject your documents and block your wallet for further use.
Make sure your documents are valid and do not expire.
Make sure, all of your documents are issued under the name that you have used to register a skrill account. If any mismatch is found then skrill will not accept it.
Documents must be colored and clearly visible.
Blurry, Low Light, and Unresponsive images are not acceptable.
Any online statement such as a Credit card, Bank, or TAX copy is not acceptable.
Make sure, all of your documents have been issued by the respected authorities with their seal and sign.
Make sure, you are not connected to any VPN or Public Internet (Hotel, Bar, Park, Mall) while uploading. It is recommended to use your personal network always.
If you follow these steps then you can easily verify your wallet without any issues. If you need to know anything specific then leave a comment, and we will assist you further.
If you want to learn more, please have a look at the

Skrill section

. We have also added a FAQ section where you can find the most common answers. Please refer to the Skrill FAQ Section to find your answers.
---
If you liked this article, then please subscribe to our
Newsletter
Services for
Forex
Related updates. You can also find us on
Facebook
 and can subscribe to our
YouTube channel
. You can also join our
Telegram Channel
for real-time trading analysis and discussion. Here is our
service sitemap
. If you have any confusion please leave your comments below.