How can I get 140$ on FBS? – FBS is offering up to a $140 Free No Deposit Bonus also known as the LEVEL UP BONUS to all newly registered FBS members. Under this campaign, you do not need to invest your own fund. Your trading account will be credited the bonus amount and you will get 20 Trading Days to prove yourself.
Though you can not withdraw the bonus amount, the entire profit can be withdrawn without any restrictions. This bonus campaign is ideal for those who plan to switch their broker or start their trading carrier as a newbie.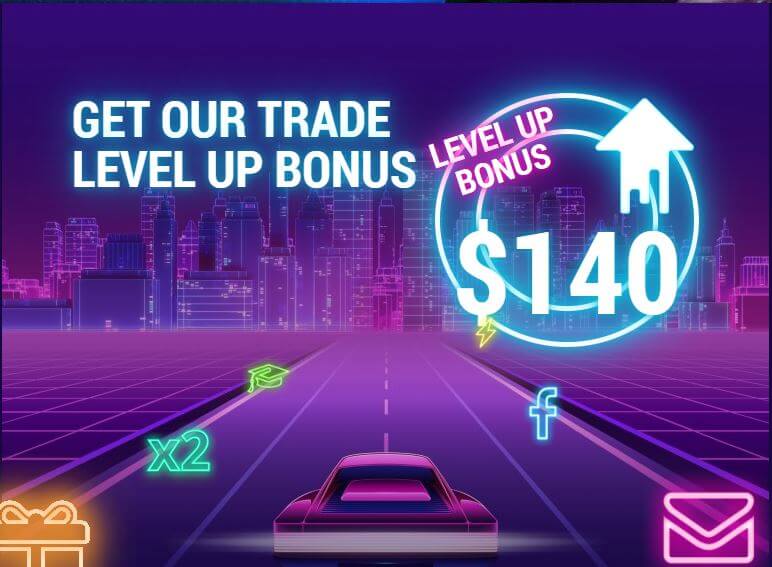 Level Up Bonus Offer
You will get up to $140 Free trading capital which can be used in real trading and to meet certain criteria, you can completely withdraw your profit. Please be noted, the bonus amount will not be available to withdraw but you can withdraw your profit with ease.
Campaign Summary



Types of bonuses
No deposit bonus
Bonus user
For All
Maximum bonus amount
$140
Bonus registration link
Bonus Registration link
Bonus Duration
Up to 20 days from crediting
Applicable to new customers
Applicable
Multiple account holders
Not Applicable
Withdrawal Conditions
Only profit is withdrawable



Bonus Rules 
First of all, please signup for a trading account from the broker's official website www.fbs.com. You do not need to verify your account but need to verify your email address. Please complete the account registration process accordingly and if you have any doubts, you can check our FBS Account Registration Guide.
After that, you need to connect your "Facebook Account" with the broker's personal area section. Please be noted, you can only connect one Facebook account to get the bonus. Navigate to your Client Cabinet and add your Facebook profile here.
Once you have done the above-mentioned things, your account will be credited $70. Now you need to download FBS Smart App and can get an additional $70 for free. Here is the calculation: $70 for registration + $70 for App Download. To download the app, please click this link and you will be redirected to the relevant apps page base on your smart device OS. FBS Smart App ->
If you do not wish to download or use their trading app, it is ok! in that case, you will get only $70 as a bonus.
Need to trade 5 Lots within this 20 days duration and a maximum of 5 days can be missed for trading. If you do not trade 6 Days within the campaign period then your bonus amount will be deducted as per the broker policy.
The following options are prohibited: locking/hedging, expert advisors (EA), and ladder strategy (it is not allowed to open a new deal in the same direction within an hour after the closure of the previous deal).
Each client/computer/IP can open only one Level Up Bonus account. It is prohibited to work through proxies or use any IP-address modifying software. Opening the second Level Up Bonus account is impossible even after bonus funds are charged off.
It is important to be acknowledged, the bonus amount will remain in your account for the next 20 trading days. During this time you need to meet all the criteria that the broker stated to withdraw your profit. For the detailed terms please follow this link ->
If you want to learn more, please have a look at the FBS Broker section. We have also added a FAQ section where you can find the most common answers. Please refer to the FBS FAQ Section to find your answers.
---
If you liked this article, then please subscribe to our
Newsletter
Services for Forex Related updates. You can also find us on
Facebook
 and can subscribe to our
YouTube channel
. You can also join our
Telegram Channel
for real-time trading analysis and discussion. Here is our
service sitemap
. If you have any confusion please leave your comments below.